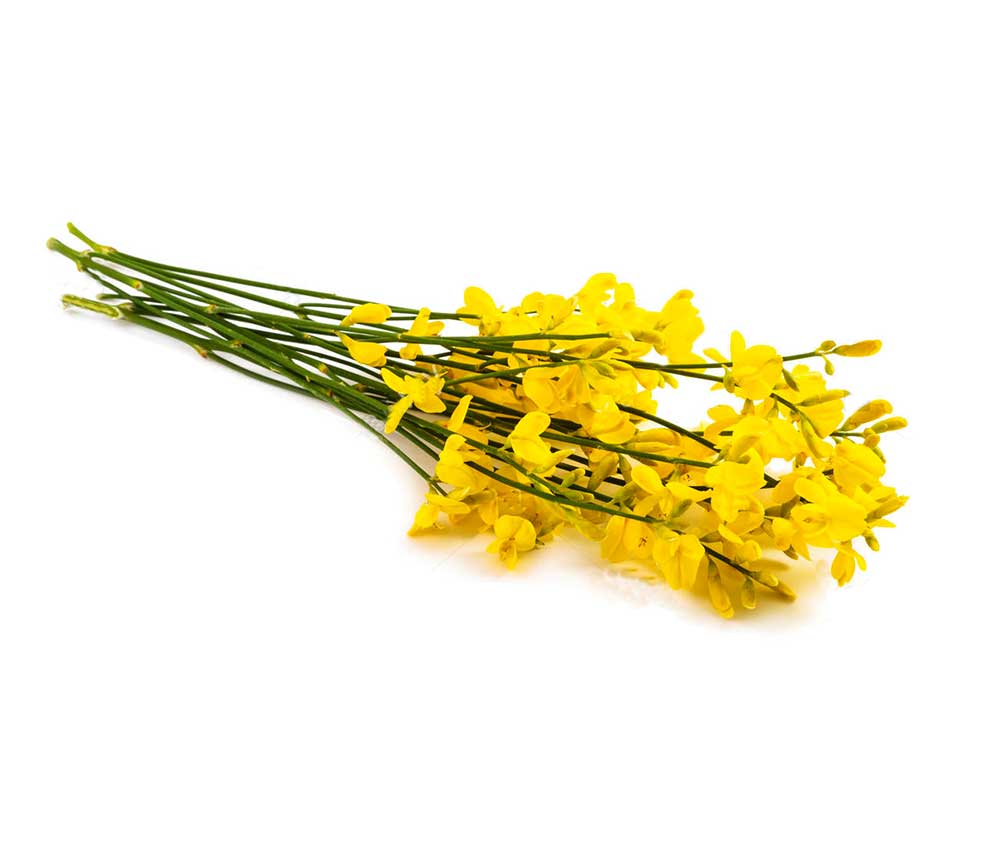 Broom
Botanical Name
Family Leguminosae
Sarothamnus scoparius syn. Cytisus scoparius
Common Names
Scotch Broom, Irish Broom/Tops, Broomtops, Besom, Scoparium, Basam, Bizzom, Browme, Brum, Breeam
Description
Native to Europe, broom is commonly found on heaths, along roadsides, and in open woodlands. It is naturalized in many temperate regions, including North America, Africa, Canary Islands, Chile, and Japan. In the US, Australia, and New Zealand, it has overrun large areas of land once used for recreation and farming. The plant is a tall deciduous shrub, growing to a height of six feet, with narrow ridged stems, small trefoil leaves and bright yellow flowers in leafy terminal spikes. The leaves and pods are mildly toxic to farm animals if ingested in large amounts. The flowering tops are used by herbalists for medicinal purposes and are gathered from spring to autumn.
History
Both the common and species names indicate its usefulness as a sweeper ("scopa" means broom in Latin).
Its medicinal value is not mentioned in classical writings, but it does appear in medieval herbals. The 12th century Physicians of Myddfai recommended broom as a means of treating suppressed urine.
Broom was adopted at a very early period as the badge of Brittany, and has a long and colourful history. Geoffrey of Anjou was said to have thrust it into his helmet before going into battle so his troops could see him.
Henry II of England adapted broom's medieval name (Planta genista) as his family name Plantagenet).
The shrub was seen on the great seal of Richard I, and adorns the Westminster Abbey tombstone of Richard II.
Its medicinal uses were listed in the Pharmacopoeia, published in London in 1618 and in the US version until 1978. It was withdrawn by the FDA for its potentially dangerous side effects, which are no worse than many of the approved drugs. Some of these side effects include the following: vomiting, diarrhea, impaired vision, and profuse sweating.
Broom tops have been pickled and used as a condiment similar to capers.
You can find Broom in these itineraries: