Malta's plant pathways
Malta
3 days
SEASON
Autumn, Winter, Spring
TRANSPORT
Car, Bus, Boat, Walk
Malta's plant pathways
This 3-day itinerary gives visitors the opportunity to study plants and discover the breath-taking sceneries of Gozo and Malta Islands. Visitors will encounter endemic plants, herbs, and wildflowers in their natural environment while discovering all the myths, stories, and cultural heritage of the islands.
Day by Day
With this 3-day itinerary you will see the most important herbs and plants of the Maltese archipelago and discover the breath-taking sceneries of Gozo and Malta Islands. The itinerary starts from Gharb, a small picturesque town, and touches very scenic points such as the famous Wied il-Mielah Window, the Fungus Rock and the Xwejni Salt Pans.
DAY 1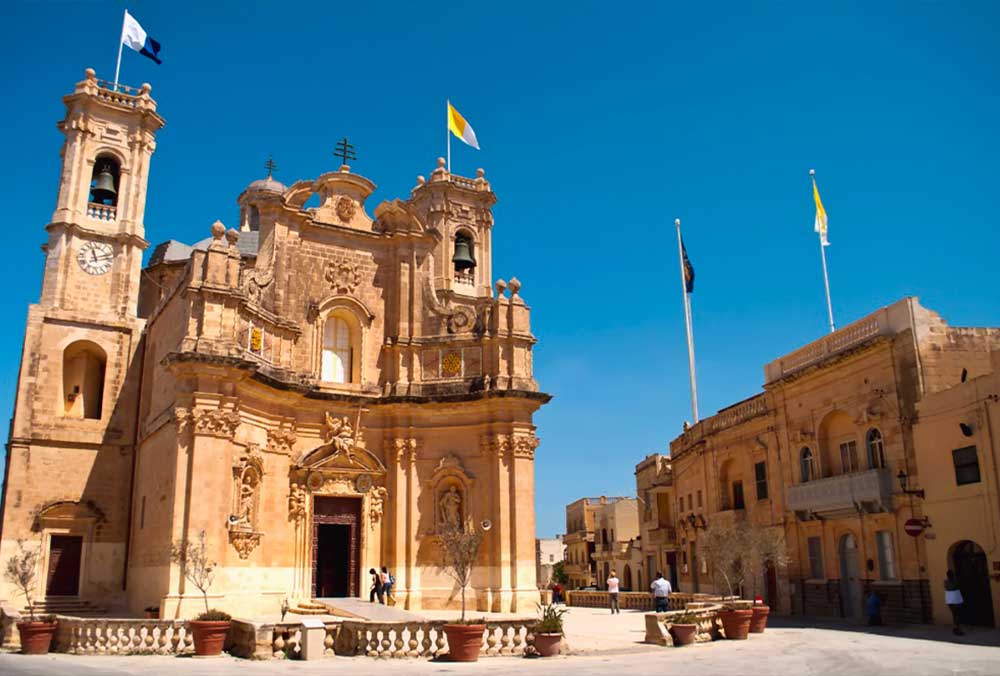 Village of Gharb – Gozo
Gharb is a village located at the westernmost point of the island of Gozo in Malta. Gharb started is a small hamlet which developed around the middle ages. The word Gharb is Maltese for West, so it should be no surprise that the village is the most westerly place on Gozo. One can see its ancient roots in the centre of the village where some houses have fine examples of decorated stone balconies. Gharb was created as a parish in 1679, a move which gave impetus for the building of a new, baroque parish church.
Highlights: Tour of the Gharb parish church of the Vizitazzjon (tour lasts for 1h), visitors will discover amazing paintings and will learn about the History of the village – Frenc ta' l-Gharb Museum (The Museum of Francis Xavier Mercieca, a farmer and faith healer from the village of Gharb): his knowledge in old medicinal plants, faith and healing faculties made him famous throughout the entire Maltese Islands and even abroad.
More info..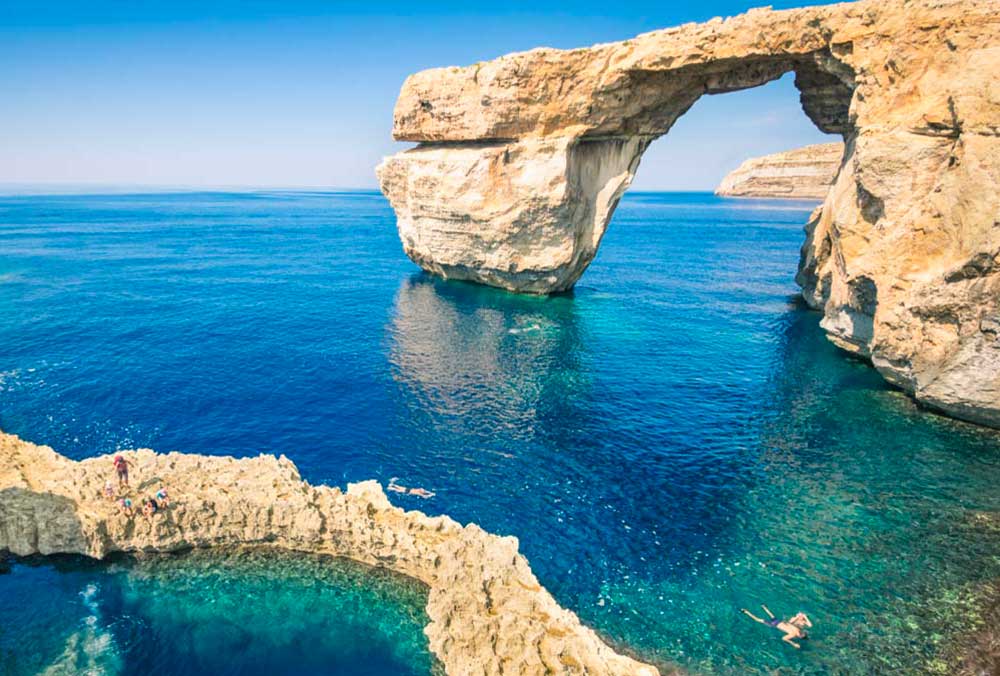 Walk by the Wied il-Mielah Window
Wied il-Mielah Window (Maltese: it-Tieqa ta' Wied il-Mielah) is a limestone natural arch on the north-western coast of the island of Gozo. The walk offers to visitors astonishing views and the chance to discover wild herbs and plants in a spectacular environment. Among them: Cheirolophus crassifolius, the Maltese centaury, Maltese rock-centaury or Widnet il-Bahar, which are Asteraceae species, endemic to Malta, and the national plant of Malta since 1973.
Walking along Dingli Cliffs, visitors will also encounter the purplish-pink patches of the Mediterranean Thyme's crowded flowers spreading on the garigue between May and August. This common indigenous aromatic shrub grows from 20 to 50 cm in height and has a sweet aromatic smell when touched.
More info..
Along the way, visitors can stop at small farms selling local. The walk takes approximately 2 hours.
Contacts: www.visitgozo.com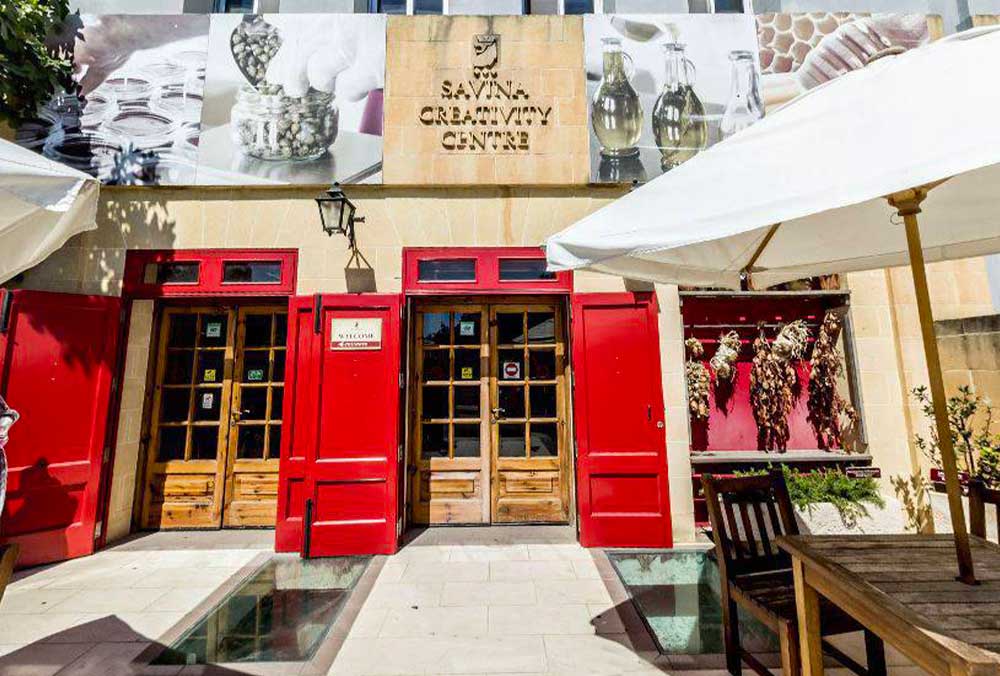 Savina Centre in Xewkija
Guided tour of the Market – Historical and gustative tour.
At the turn of the 20th century, Pjazza Savina in Rabat was not just the geographic heart of Gozo, it was also the center of everyday trading. The Savina open market provided everything from delicious fresh produce, cheeses, and wines, to crafts, fishing nets, and woven attire. Magro Brothers were already renowned provision merchants and their offices were set right in the hub of this trade center.
Today, four generations later, Magro Brothers are the leading food processors in Malta, reputable provision merchants, and have business connections with some fifty countries in four continents.
This a chance for visitors to taste and purchase local products and to witness the making of artisan food products.
More info..
Opening hours: Open every day. Tour at 10am and 11am
Admission: Free entrance
Contacts:
www.savina.com.mt
www.magro.com.mt
Tomato Plant: Visits (July & August) offering the possibility of viewing the processing of tomatoes – a sight to behold as "rivers" of tomatoes make their way into our great tasting pulp, juices, sauces or kunserva (tomato spread).
Dairy Centre: is another interesting area featuring the production of traditional Gozo Cheeslets, fresh ricotta, and dairy spreads. Our Gozitan Cheeselets are handcrafted with the addition of herbs.
The Magro Village Kitchen: Fully equipped kitchen for max of 12 participants Demonstrations and preparations by leading chefs Great for hands-on cooking experiences including the making your own Gozitan Cheeselets and ricotta Information on Gozo's rural heritage and its benefits and explanations about the attributes of traditional agricultural crops such as tomatoes, olives, bees, herbs, and honey.
DAY 2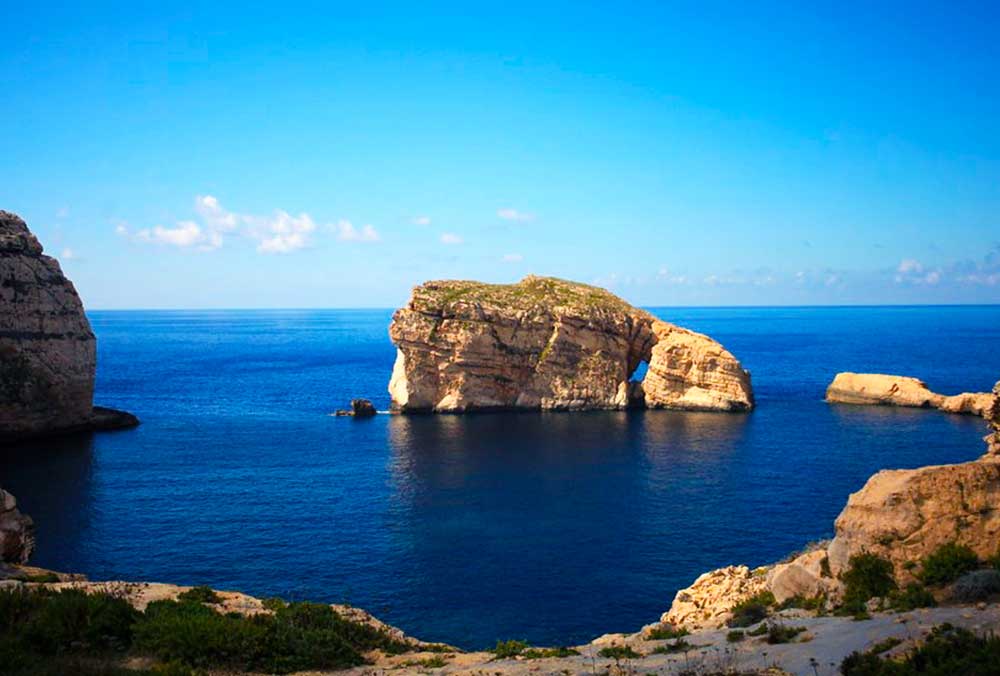 Fungus Rock
Explore Hagret il-General (the General's Rock). It is a 65-meter high rock 60 meters away from the mainland completely encircled with water and located at the mouth of a splendid bay beside the Azur Window. This is where A commander of a squadron of the galleys belonging to the Knights of Malta discovered a plant locally known as Gherq is-Sinjur known as the parasitic flowering plant Cynomorium Coccineum. Which belongs to the balanophora family. The plant has been used medicinally in folk medicine as an aphrodisiac and geriatric tonic.
More info..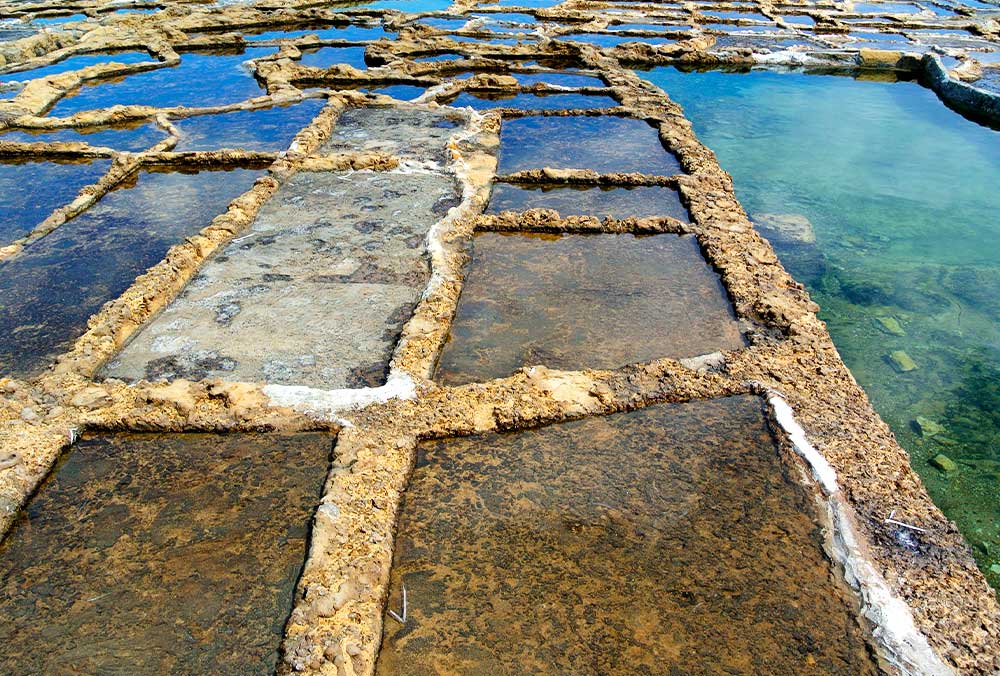 Xwejni Salt Pans
On the north coast of Gozo, just past Qbajjar Bay west of Marsalforn, the coast is characterized by a chequerboard of rock-cut saltpans, and visitors can watch the art of the natural sea salt collection and harvesting. Along with the open wild areas, visitors will find the Silver Ragwort – Kromb il-Bahar l iswed, a dwarf shrub growing to about 100 cm high. It is indigenous to the Mediterranean and a perennial, that is, it grows and blooms during spring and summer, then dries up in autumn and winter, and springs back to life again from its rootstock. It is tolerant of extreme conditions The leaves are lance-shaped, as is the stem, and are covered with long, white matt hair. It grows in rock fissures, walls, and cracks, and is very common near the sea, flowering in spring and summer.
More info..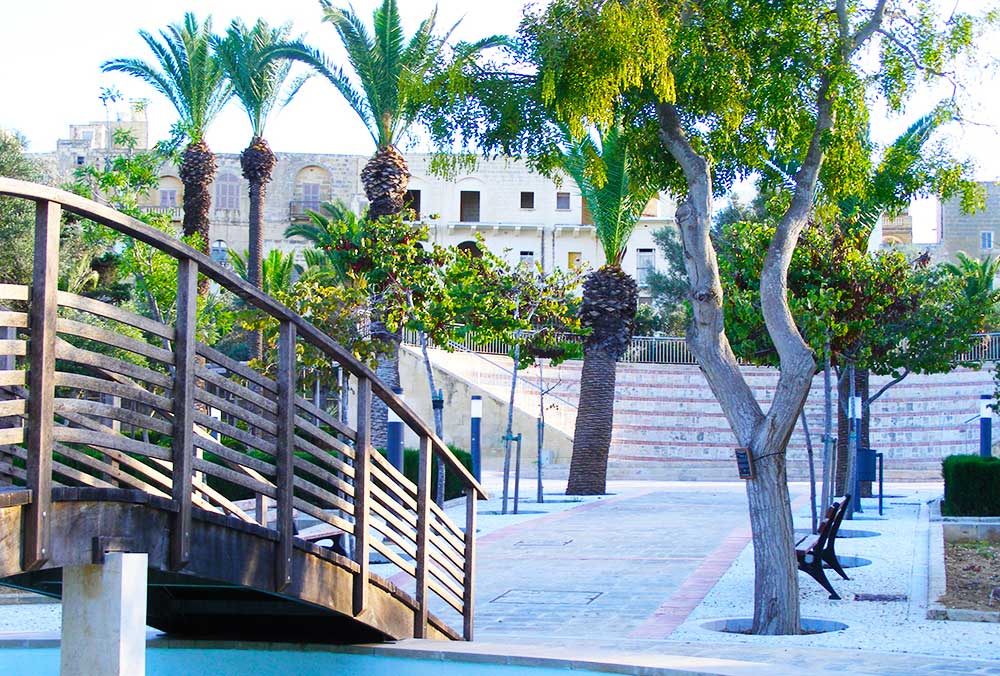 Villa Rundle Garden Victoria
Villa Rundle Garden is a garden located in the lower part of Republic Street, Victoria, in Gozo. The garden was planted by, and named, after the British General Leslie Rundle around 1915, and has a variety of native and imported trees, such as Ficus nitida and Canary palms, herbs and Mediterranean shrubs.
More info..
Opening hours: Monday to Sunday from 7am to 10pm
Admission: Free entrance
Contacts: www.visitgozo.com
DAY 3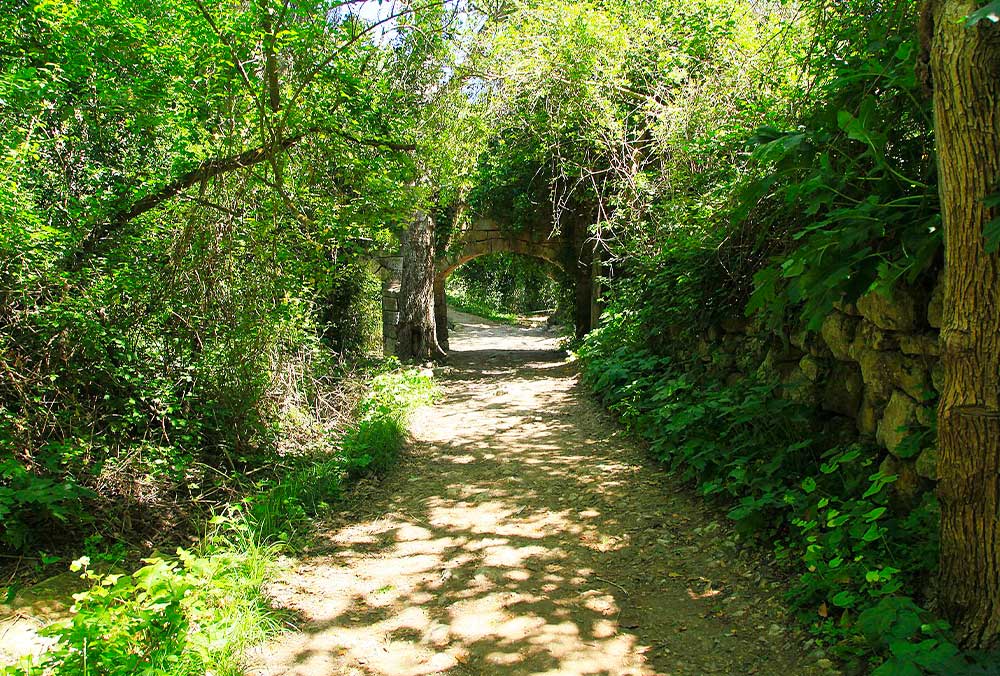 Buskett gardens
The gardens contain broadleaved deciduous woodland, native coniferous woodland, with sclerophyllous garigue and maquis shrubland, as well as groves of fruit trees. Many different trees and shrubs grow in the gardens, including numerous fruit-bearing trees. One of the greenest areas in Malta, the gardens are at their best in the spring but also provide shade from the harsh mid-summer sun and offer a quiet place for a walk in the winter months. The gardens are very popular with the Maltese people, who often go for walks in the peaceful settings or enjoy a picnic in the shade of the trees.
More info..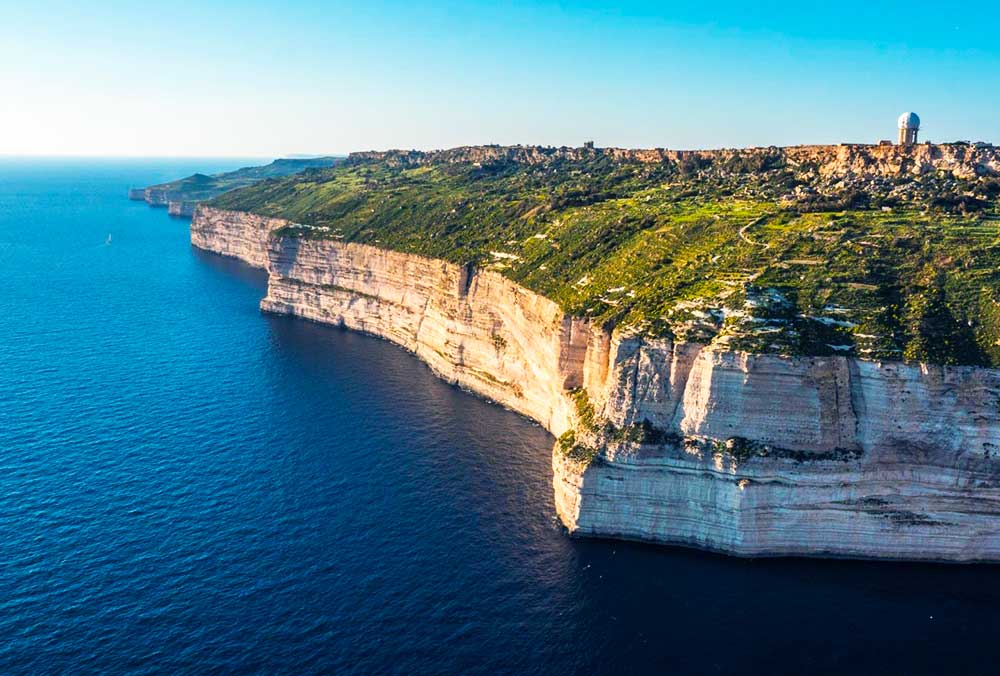 Dingli Cliffs walk
From Buskett Gardens visitors should head towards the Ta' San Gorg Caves and the Dingli Cliffs. Along the way, there are amazing caves at Ta' San Gorg and the highest point in Malta with fields of agricultural land. Stopover by local farms and visit the info center Dingli were visitors can taste local food. The Cliffs Interpretation Centre is located within the largest Special Area of Conservation in the Maltese Islands. The most typical terrain is dominated by karstic plateaux, which forms relatively flat bare rock, composed of the Coralline Limestone landscape and bounded by escarpments. Much of the natural vegetation of the plateaux consists of garigue vegetation, which is the main natural habitat in Malta. Over 500 indigenous plant species can be found in the garigue of the Maltese Islands. Many of the herbaceous shrubs are aromatic and oil is exuded to act as a waterproof film.. Typical vegetation that is found in such habitat is the Wild Thyme (Thymbra capitata), Yellow Kidney Vetch (Anthyllis hermanniae), Mediterranean Heath (Erica multiflora) and Tree Spurge (Euhorbia dendroides), Mediterranean Thyme – Saghtar. Fennel – Buzbiez is a very common plant that can be found in the area with flowers from May to October bearing yellow bunched flowers in the form of an umbrella, mainly in summer. The leaves are very aromatic.
More info..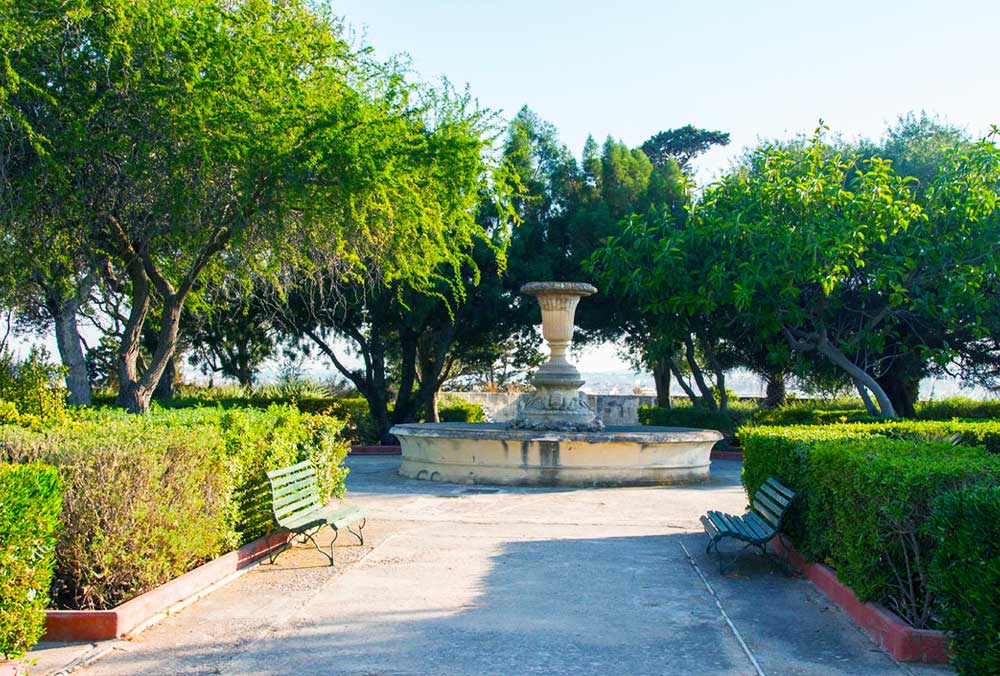 Argotti botanical gardens
A Botanic Garden created in 1674 by the Knights of St John. The Argotti Botanic Gardens & Resource Centre at Floriana maintains the national herbarium and the living botanical collection of predominantly Mediterranean type plants. The Argotti Botanic Gardens & Resource Centre host a number of mature botanical specimens which include amongst others; Tetraclinis articulata (Sandrac Gum Tree), Ficus macrophylla (Moreton Bay Fig), Dracena draco (Dragon's Blood Tree), Argania spinosa (Argan Tree), Pheonix rupicola (Cliff Date Palm), Lagunaria patersoni (Cow Itch Tree), Tipuana tipu (Rosewood, Pride of Bolivia) and Jaracanda mimosaefolia (Jacaranda). There are also several large specimens of Cereus pringlei and a large collection of succulent Euphorbias. The botanical collections are partly organised by families. The collection of cacti and succulents is housed in one of the greenhouses and also as a roof garden.
More info..
Accessibility
Starting point: Village of Gharb in Gozo
Nearest airport: Luqa International Airport. If staying on the island of Malta, take the Gozo ferry from terminal (30min by ferry). Bus from Mgarr port to Gharb (1h19min by bus 322). Car Mgarr port to Gharb: 11,8 km (24 min drive). More info on Public Transport.
Distances:
Day 1
Gharb village > Wied il Mielah:  3,1 km (10 min drive)
Wied il Mielah > Savina centre: 7,5 km (17 min drive)
Day 2
Starting from Fungus rock
Fungus rock > Xwejni Salt Pans: 9 km (17 min drive)
Xwejni Salt Pans > Villa Rundle: 5,9 km (13 min drive)
Day 3
Starting from Buskett gardens
Buskett gardens > Dingli cliffs: 2 km (28 min by walk – 5 min drive)
Dingli cliffs > Argotti gardens: 15,7 km (25 min drive)
Distances: distances are very short so most can be done by walk or by car or a bit longer by bus. We suggest to do the tours between September and May since the other months are very crowded and with temperatures ranging from 30-45 degrees.
Accomodation
Villagg Tal Fanal
Gozo Malta
Hotel Ta' Cenc & Spa
Gozo Malta
Kempinski Hotel San Lawrenz
Gozo Malta
Castile Hotel
Valletta Malta
Casa Ellul
Valletta Malta
Catering
Gharb Rangers Bar & Restaurant
Malta
Il Kunvent Restaurant
Gozo Malta
Ic-Centru Restaurant Caffe'
Gharb Malta
Salvina Restaurant
Garb Malta
Grazie Mille Restaurant
Gozo Malta
Tatitas Restaurant
Gozo Malta
That (Vegan) Indian Food Guy
Gozo Malta
Ta' Dbiegi cafettaria
Gozo Malta
Azure Window Restaurant
Gozo Malta
Brookies Restaurant & Music Bar Gozo
Gozo Malta