In the heart of Herzegovina
Bosnia-Herzegovina
3 days
In the heart of Herzegovina
You can come to Herzegovina to explore the rich cultural and historical heritage or simply come on vacation and enjoy its natural beauty, gastronomy, and quality of life. No matter where you go, from Neum in the south to Jablanica in the north or from Livno in the northwest to Trebinje in the east, there are numerous facilities that will encourage visitors to truly enjoy the benefits that the region of Herzegovina provides. The beauty and splendor of the Herzegovina region will only be fully experienced when tasting its local products: fruits and vegetables, cheese and meat grown on grazing rich pastures, Zilavka and Blatina wines, Herzegovina tobacco and aromatic herbs such as Salvia oficinalis, Calluna vulgaris, Helichrysum italicum, Lavandula officinalis, etc.
To explore 'The Heart of Herzegovina' means to learn firsthand how the many civilizations that have passed this region could not compromise the centuries-old originality of the Herzegovina people, their traditions and customs, nor diminish their openness, hospitality and eternal willingness to lend a hand of friendship.
Day by Day
With this 3-day itinerary you will visit some of the most beautiful natural places in Herzegovina, admiring breathtaking rural landscapes and discovering local plants and scents. The itinerary starts from Ljubuski, where the famous Kravica waterfalls are located, passes through cities and towns to reach Mostar, the regional capital.
DAY 1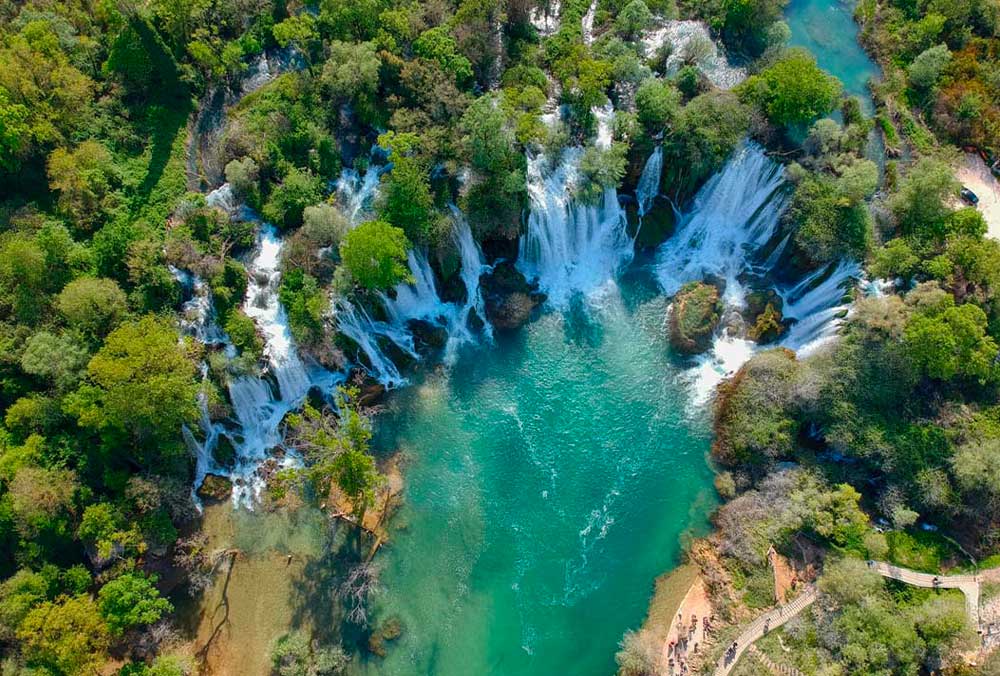 The Town of Ljubuski
The municipality of Ljubuski lies on the Trebizat River in the heart of Herzegovina. The most beautiful waterfalls can be found in this area, the most famous being Kravica and Kocusa. (Waterfall Kravica is up to 28 meter high).
The municipality of Ljubuski is also known for its significant cultural and historical heritage. Like the old Herceg Stjepan Fortress dating from XIV and XV Century, Roman period military Camp Bigeste.
More info..
Location: Ljubuski is 37,4 km from Mostar International Airport, 138 km from the Split Airport in Croatia and 153 km from the Dubrovnik Airport in Croatia.
Opening hours: 7am – 5pm; during high season (June, July, August and September) 7am – 10pm
Contacts: +38739844413, parkovi.ljubuski@gmail.com, www.kravica.ba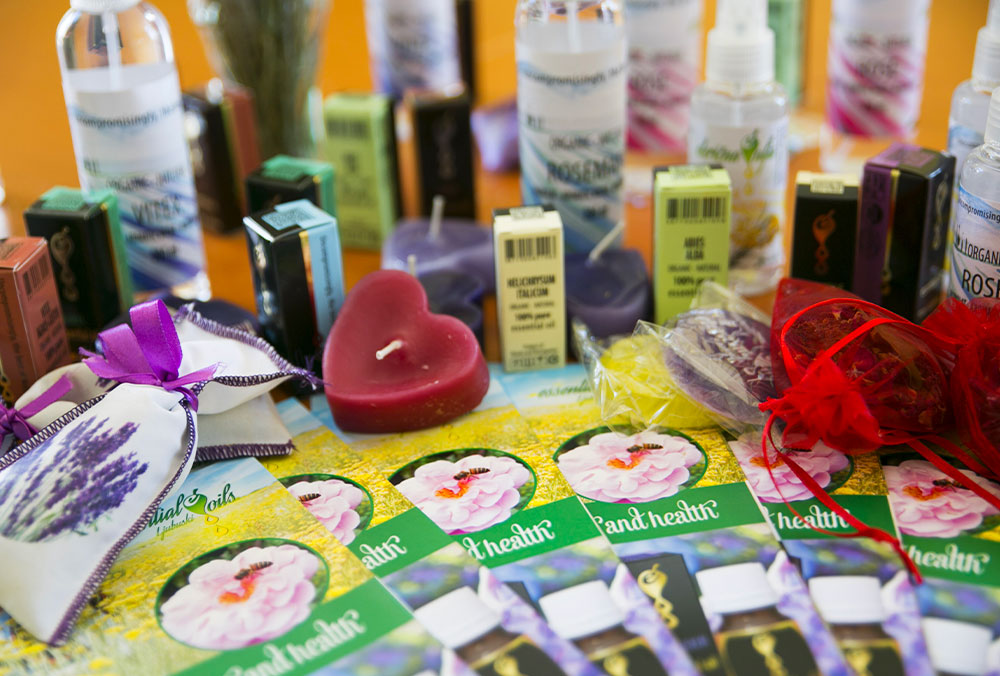 Aromatic and medicinal tours "Essential oils doo Ljubuski"
Essential oils d.o o. is a company dealing with cultivation and processing medicinal and aromatic herbs form Herzegovina. They cultivate and extract oils from Abies Alba, Artemisis Absintium, Foeniculum, Helichrysium Italicum,Hypiericum perforatum, Jniperus communis, Laurus Nobilis, Lavandula Officinalis, Pnus Silvestris, Rosmarinus Officinalis, Silvia Officinalis, Vitex Agnus Castus, Calluna Vulgaris, Junipersu Oxycedrus.
Tours are proposed around their fields and through the extraction facilities. Visitors will learn about the process of extraction and distillation and workshops are offered to prepare natural products (mixtures of hydrolytes and oils).
More info..
Location: Ljubuski, Hrasljani 14
Contacts: +38763320005, roing@tel.net.ba, www.essential-oils.ba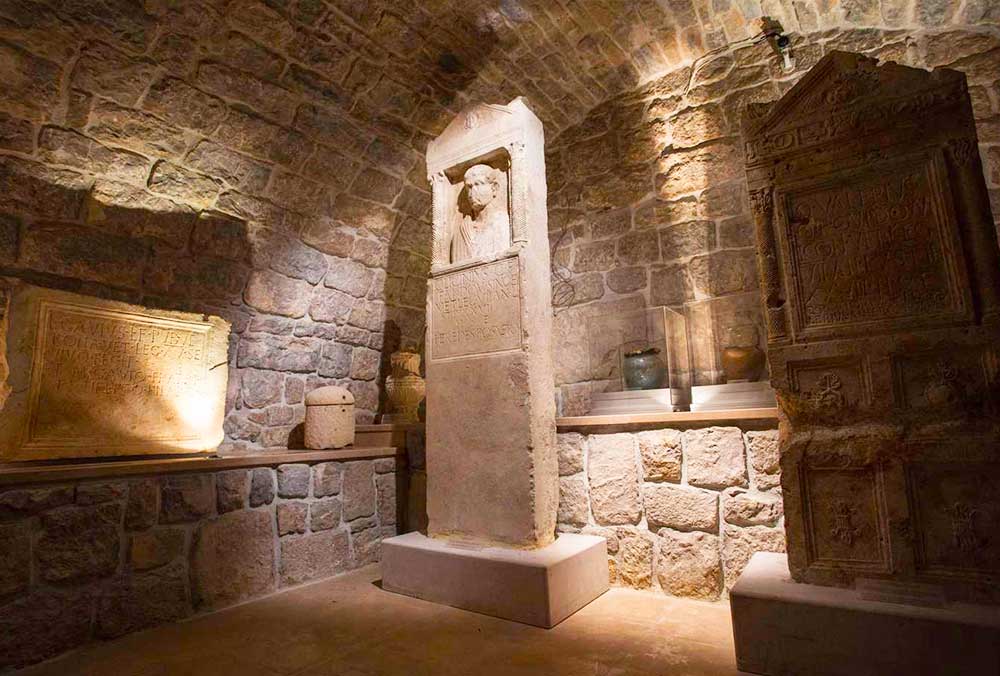 Archaeological Museum of Humac
The Archaeological Museum of Humac was founded in 1884 and is the oldest museum in Bosnia and Herzegovina. The museum presents objects collected in the wider area of Herzegovina, chronologically belonging to the period from the upper Paleolithic to the late Middle Ages, in a time span of almost 16,000 years. The largest collection of finds consists of objects from the nearby Roman military camp in Gracine. The Museum is also exhibiting a "Humac plate" (Humacka ploca), which is dated from the period from 10th to 12th century and represents the oldest written track of Croatian language in today's Bosnia and Herzegovina.
More info..
Location: Trg sv. Ante Ljubuski
Admission: 2 BAM for the period from 1.1. – 15. 6. / 15. 9. – 31. 12. or 4 BAM during the summer season for the period from 15. 6. – 15. 9.; in the locality of the waterfall Kravica in a joined ticket package.
Opening hours: The museum is open to visitors every day, from 1 January to 31 March, and from 1 October to 31 December in working hours from 10 to 17h, or from 1 April to 30 September with a slightly longer working time from 10 to 19h.
Contacts: + 38739830970, info@muzejhumac.com, www.muzejhumac.com
DAY 2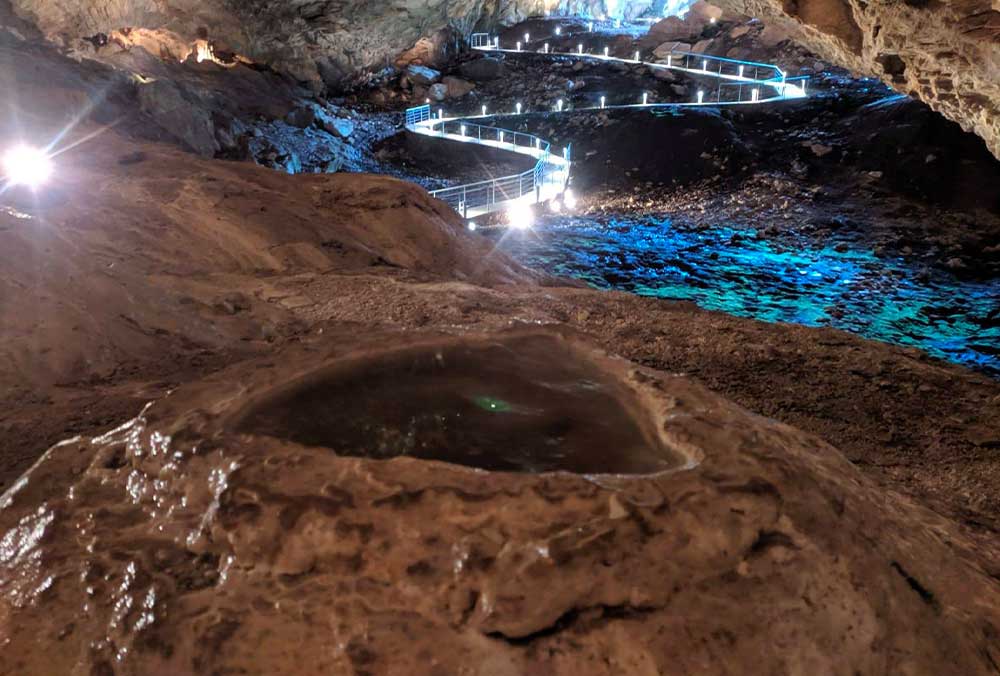 "Pec Mlini" Adventure Park
Pec Mlini Adventure Park is located in Drinovci in the Town of Grude. It consists of different walking trails, unique river source, adventure infrastructures such as zip lines, via ferrata and rock climbing platforms. One of the most fascinating spots in the Park is the "Ravlica Cave", which is located only a few hundred meters from the source of the Tihaljina River. The cave is illuminated with well-maintained trails. Archaeological researches show that life at this spot dated back to 3700 years BC. The Cave provides specific acoustics and it is planned to organize concerts of classical music inside the cave.
More info..
Location: Pec Mlini, Drinovci, Grude,
Opening hours: between 1/4 to 31/10 every day between 9:00 and 19:00 hours.
Admission: 2,5 € / person. Free for children under 7. For groups more than 25 guide and bus driver do not pay tickets.
Contacts: +38763986419, https://www.facebook.com/adventureparkpecmlini/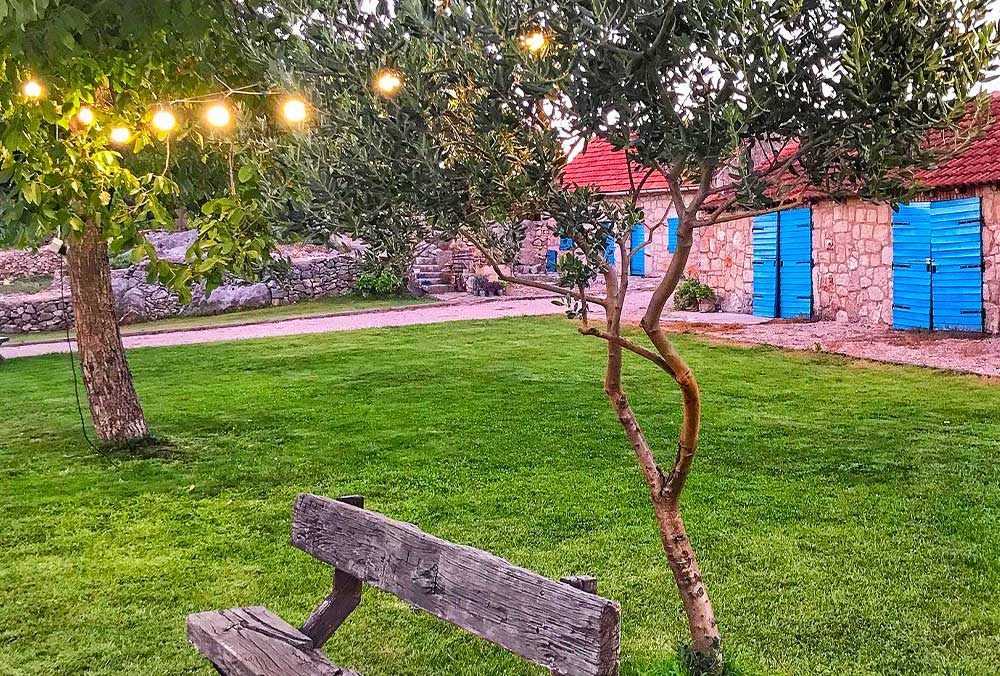 Agro tourism Marica Gaj
Agrotourism Marica Gaj is located on the main road between Grude and Ljubuski, only 30 km from Medjugorje.
Visitors can enjoy a peaceful and quiet environment while tasting local organic products.
The estate of rural tourism "Marica Gaj" covers an area of 40 ha (hectares). Pathways and private roads (3 km) have been built on the property - arranged for walking, running, and horseback riding. They produce organically grown food, wine, fruit brandies, and olive oil, as well as various wild herbs that are used in the preparation of various home-cooked meals and beverages. This facility organizes every year a traditional contest in Kale cooking.
More info..
Location: Grude
Opening hours: every day
Admission: Free entrance – Possibility to taste and purchase their products and have lunch
Contacts: +38763437099, info@motelkiwi.com, http://www.agroturizam-hercegovina.com/, https://www.instagram.com/maricagaj/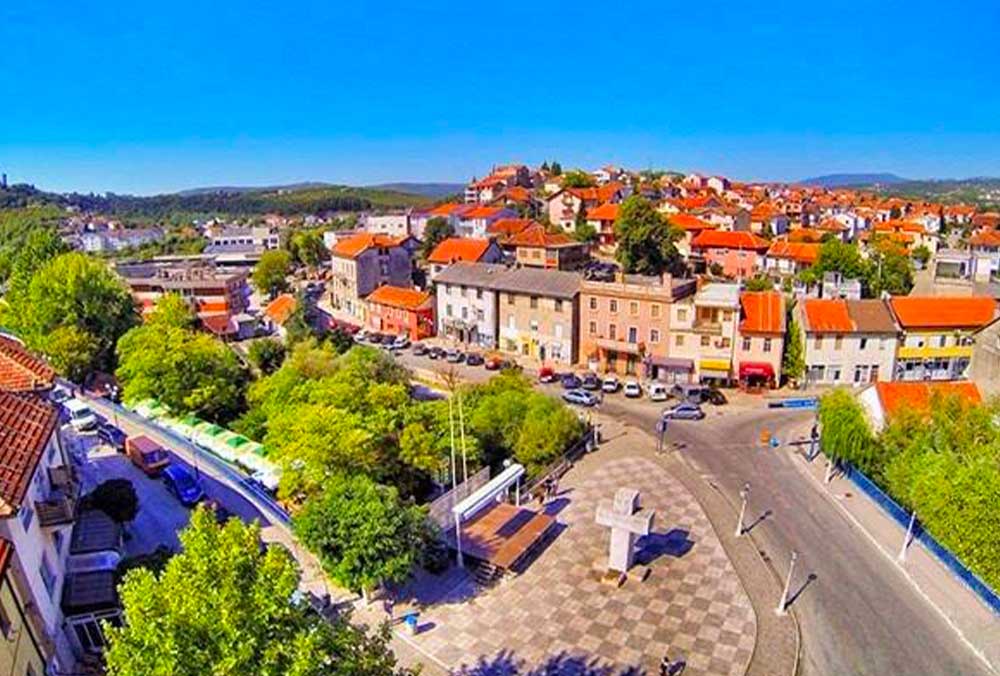 The Town of Siroki Brijeg - Guided tour
The town of Siroki Brijeg is the center of West Herzegovina and it is located 20 minutes drive from the City of Mostar.
The guided tour includes: the Franciscan Monastery and Museum, the Art Academy, the picturesque Borak Canyon which is almost in the Centre of the town. The guided tour also includes a visit to some major aromatic and medicinal farms and distillation facilities in Siroki Brijeg (extracting oils from Helichrysum italicum) where there is the possibility to buy local products made with aromatic herbs such as soaps, crèmes, oils, hydrolats, etc.).
Internationally known art festivals are held every year in Siroki Brijeg in July (West Herzegovina Fest- www.whfest.com and in August (Mediterranean Film Festival www.mff.ba).
More info..
Location: Siroki Brijeg
Opening hours: Please contact in advance to arrange the tour
Admission: 25 € per person for group of 10 persons. This includes guided tour, entrance fees and meal.
Contacts: +38763119924, soldo.maja15@gmail.com
DAY 3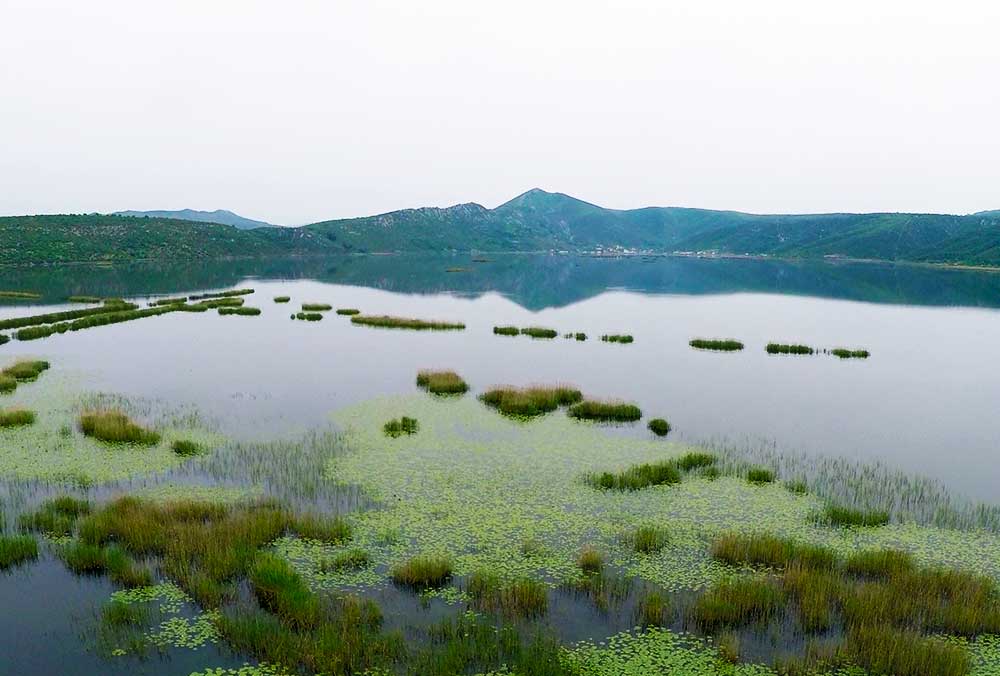 The Town of Capljina " Hutovo Blato " Natural Park
Hutovo Blato Natural Park was founded in 1995. It is located in southeastern Herzegovina, on the left side of the Neretva River, in the municipalities of Capljina and Stolac. The park is a real heaven for bird watching lovers. It offers photo safaris, sports fishing, and educational trails exploring the flora and fauna, walks along the swamp. Benefiting from favorable environmental conditions and the influence of the Mediterranean climate the park counts, more than 600 plant species, which have been identified according to the latest Life Project research. Among them, an important variety of endemic plants.
More info..
Location: Capljina
Opening hours: 6am to 4pm
Admission: 4 EUR per person, no additional services included. Photo safari is 30 EUR up to 10 persons and 50 EUR for groups between 11-25 persons. Bird watching 100 EUR per person, groups of 2-5 persons is 50EUR per person.
Contacts: +387 36 814 716, info@hutovo-blato.ba, www.hutovo-blato.ba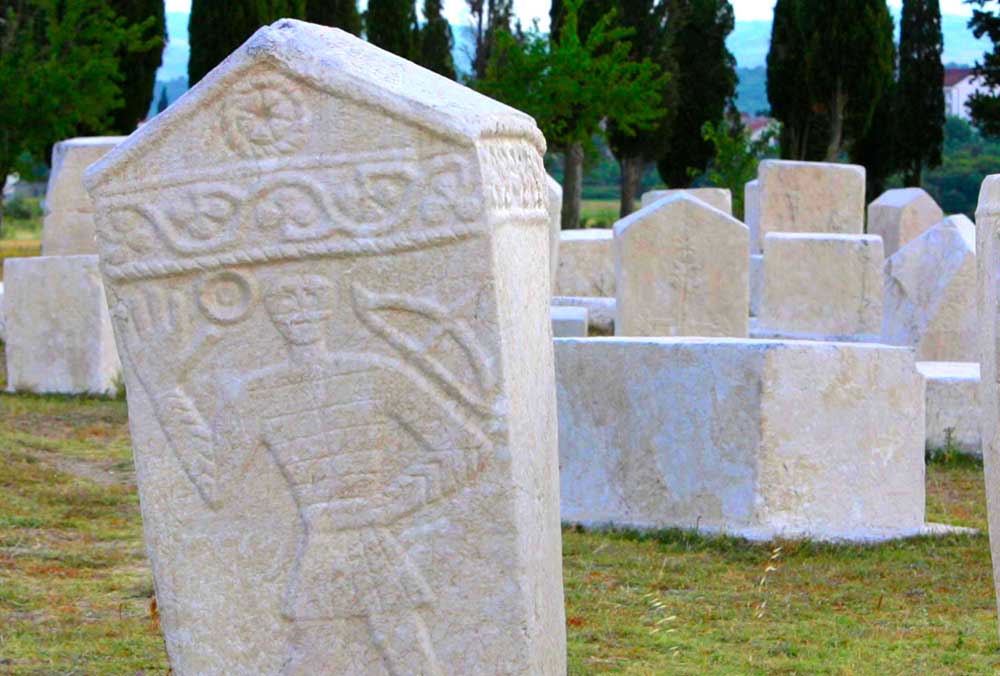 The Town of Stolac "Nekropola Stecaka Radimlja"
The necropolis of Radimlje's tombstones is the most famous site of medieval tombstones in Herzegovina. It is located 3 kilometers west of Stolac, along the Stolac - Capljina road, in the Vidovo polje locality, at the foot of Paprati village. The necropolis is one of the most valuable monuments of the medieval period in BiH. Features that emphasize its value are the number of specimens, the variety, and representation of all the basic forms, the relatively high artistic quality of the workmanship, the abundance of plastic decorations, reliefs, and inscriptions that mention historical figures.
More info..
Location: Town of Stolac
Opening hours: working days from 7am to 7pm, weekends 7am to 6pm
Admission: entrance fee 4 KM, for groups 2 KM
Contatcs: +387 036/819-043, info@radimlja.ba, www.radimlja.ba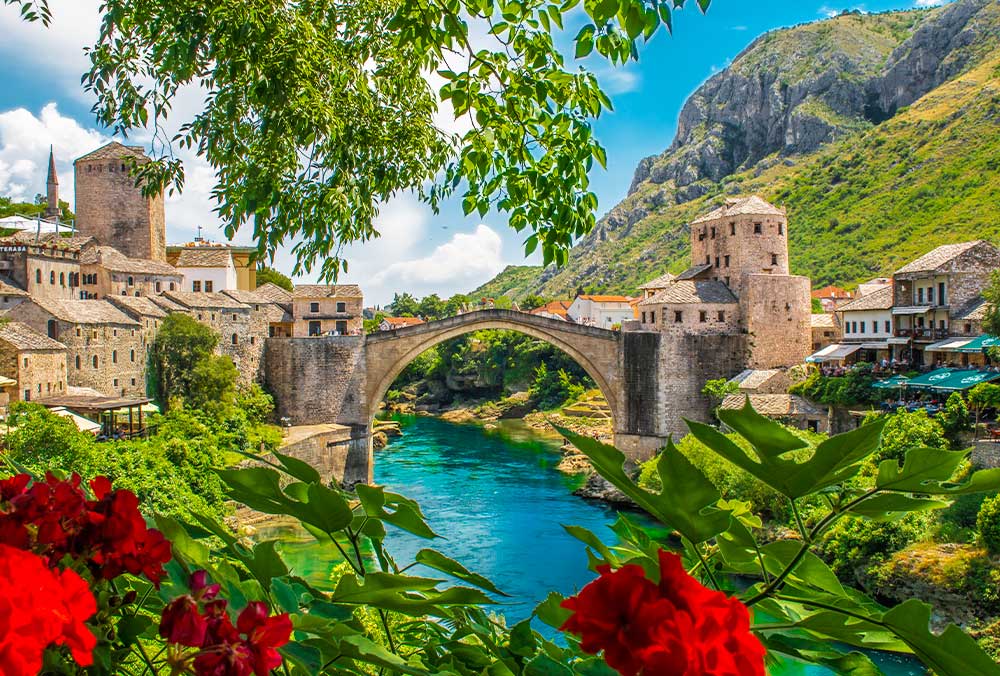 City of Mostar
Mostar is the largest city in Herzegovina, with a small but thoroughly enchanting old town center. At dusk the lights of numerous millhouse restaurants twinkle across gushing streams, narrow Kujundziluk bustles joyously with trinket sellers and, in between, the Balkans' most celebrated bridge forms a majestic stone arc between medieval towers. Vistors can take a guided tour of the city and find information at the Tourist Info Center.
More info..
Location: Mostar is the main city in Herzegovina with an International airport only 15 min from the city centre.
Opening hours: Tourist Info Centre opened form May to October between 9am to 12am
Contacts: +38736580275, mostar@hercegovina.ba
Accessibility
Starting Point: The Town of Ljubuski
Nearest Airport:
Mostar International Airport (78 km)
Sarajevo International Airport (101 km)
Split International Airport (160 km)
Dubrovnik International Airport (230 km)
The itinerary has to be done by car or by rented minibus.
Distances:
Day 1
All destinations are within the town of Ljubuski in range of 10 km and usage of car is needed
Day 2
Ljubuski > Pec Mlini: 26,4 km (29 min drive)
Pec Mlini > Marica Gaj: 17,8 km (19 min drive)
Marica Gaj > Siroki Brijeg: 22,4 km (28 min)
Siroki Brijeg > Ljubuski: 33 km (41 min drive)
Day 3
Ljubuski > Hutovo Blato: 31 km (58 min drive)
Hutovo Blato > Radimlja: 20,4 km (36 min drive)
Radimlja > Mostar: 33,5 (35 min drive)
Mostar – Ljubuski: 37,1 km (47 min drive)
Catering
Natural aqua park Kocusa
Ljubuski
Riblji restoran Bago
Ljubuski